Reasons for loving Halloween:
1. The best Halloween funnies!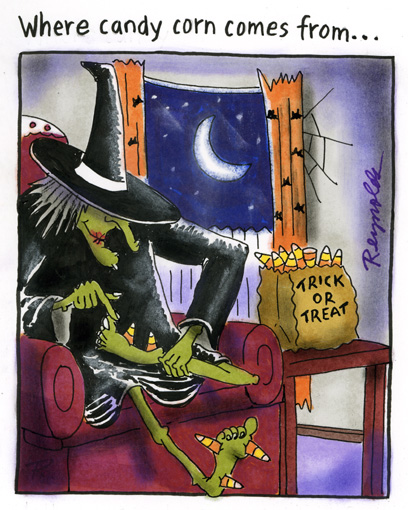 2. The Best Apple Cider Recipe!

This is yummy to have prepared ahead of time and serve of to little trick-or-treaters after they return with their candy stash!
Hot Caramel Apple Cider
1/2 gal. apple cider1/2 c. brown sugar, packed1-1/2 t. cider vinegar1 t. vanilla extract4-inch cinnamon stick
6 whole cloves1 orange, sliced; 1/3 c. caramel ice cream topping
Combine all ingredients except topping in a slow cooker. Cover; cook on low setting for 5 to 6 hours. Strain; discard spices and orange. Serve in mugs, drizzling a teaspoonful of topping into each mug. Serves 16.
3. The Best Weather (Especially in San Diego)

Embrace your tights and long sleeves - your wooly hats and umbrellas.
I will make chick pea broth with parsley dumplings and I will bake sugar cookies and melted chocolate muffins.
I will read books by my fake fire. I will love and live and probably SNEEZE!!!
Anonymous
4. The Best Pumpkin Dip AKA - Big "bum" dip! you have to eat it until it's gone!
Pumpkin Dip
1 Can pureed Pumpkin

2 cups powdered sugar
1 8 oz. cream cheese

2 tsp. cinnamon
1 tsp. pumpkin pie spice

Blend in the blender and refrigerate for a couple of hours.
Yummy with pretzel chips, pita chips or ginger snaps.

Autumn Allegro... Vivaldi
The Great Pumpkin Waltz.... Vince Guaraldi (Charlie Brown)
'Tis Autumn..... Esther Phillips
Autumn in New York... Frank Sinatra
Ode to a Butterfly.... Nickel Creek
Autumn Leaves... Vince Guaraldi
Fall....No Second Troy
September Song... Ella Fitzgerald
Autumn... Jimmy Williams
Sea... George Winston's
6. The Best Decorations

6. The Best Halloween Treats!

7. The Best Halloween Images
8. The Best Halloween Crafts!


Happy Month of October and all things Halloween!