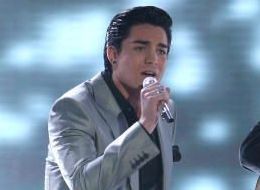 I had the chance to see Adam Lambert when he came to San Diego today.. but instead I went to the World's Best Mother's Day parties at my kiddies schools.
First off was Parker's class. A-Ma-Zing is all I can say. We were seated at the cutest tables and Parker came over with a little menu of food that I could pick from. He then delivered the items I ordered to Mr. Joe (his teacher) who than cooked up the yummiest breakfast. After eating, we watched the kids perform songs and poems abut Mother's Day. Parker was the letter T for Terrific. When they were done, each Mom was given a necklace that had our names on it and we each got a personalized DVD of questions and the answers that our kids gave about us. Too funny - some of the highlights - Parker said that I am 65 years old and that I way 5 and a hundred pounds. (I sound like an old elephant!) I love that boy!
Than we were off to Bailey's class for a Mother's Day party. We had cake and strawberries and the kids did some read-alouds and poems. What a special day!
The kids were really excited about tonight as their dad invited them to sleep in the tent he had set up in our backyard. They watched movies, ate popcorn, and stayed up way too late!